Here is my easy to follow tutorial to get Mortal Kombat Deception back online.....
The Requirements...
-A PS2 capable of running Open PS2 Loader 0.9.3
-A USB stick with enough space (4gb +)
-An NTSC copy of MK Deception (Has to be in the ISO format)
-USBUtil 2.0 (To install your ISO to your USB storage device)
-PS2 Patch engine
I will provide OPL 0.9.3, USBUtil 2.0 and PS2 Patch Engine in a zip file....
Click HERE for the Files
Step 1 - Patching your ISO
Open up PS2 Patch Engine, hit Browse and select your Mortal Kombat Deception ISO.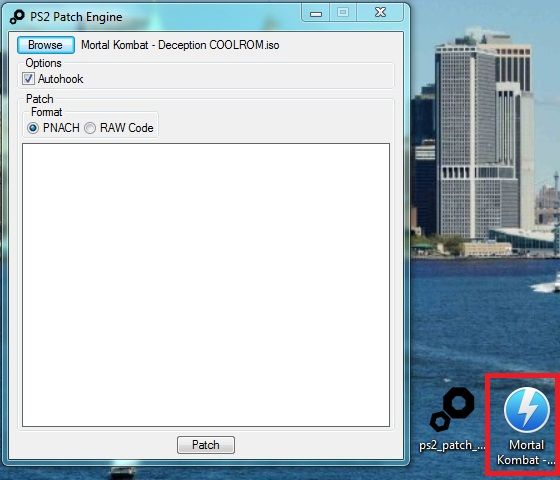 Then select PNACH as your format and enter this...
patch=1,EE,902231BC,word,0C04620A
patch=1,EE,203F7638,word,10000540
Hit the patch button and this should come up...
Make sure you select SLUS_208.81 Primary ONLY
This prompt will then come up again so make sure you select SLUS_208.81 Primary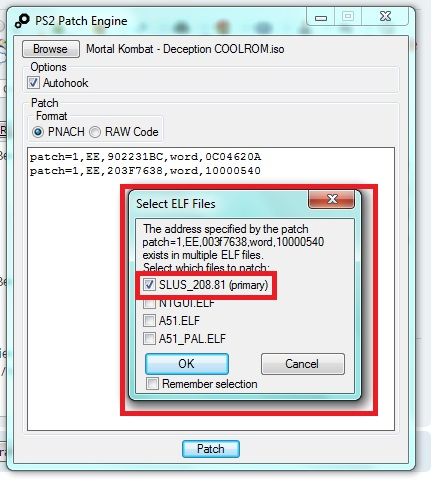 You should be prompted to save your ISO, if not hit the patch button again.
Be sure to select your destination to your Desktop.
And once you hit save, PS2 Patch Engine will begin patching your ISO.
Once finished patching, close out of PS2 Patch Engine.
Step 2 - Installing the game to your USB storage device
Open up USBUtil 2.0 (Ignore the donation message, just hit close.)
Hit File, then create game from ISO. Once the prompt comes up...
Select your Desktop from the left pane where it says 'From' and your patched MK Deception ISO from where it says "ISO(s) to transform", and on the right pane where it says 'To' use the drop down menu to select your USB storage device. Mine is (E:\)
In the box "Name for the new game" name it whatever you want, I named mine "Mortal Kombat Deception Patch" and then hit the Create button.
This will take some time as the ISO is quite big, so give it 20 minutes or more if the progress bar doesn't indicate that it is nearly completed...
Step 3 - Loading up Mortal Kombat Deception using Open PS2 Loader
Load up Open PS2 Loader on your PS2, plug in your USB storage device and launch MK Deception (I renamed my ISO, it doesn't affect anything)
The screen will then flash different colours and then if all was successful the game will boot.
Step 4 - Creating Your Network Setting. IMPORTANT!
Once you have created a profile on the game, select MK Online, agree to the user agreement and then select "Create Or Modify"
Add a new setting, Use of PPPoE is not required, You can set your IP address automatically but for my setup I set it to Manual and entered my own IP.
Set your Primary DNS to 186.34.189.167
Name the setting, save it and then quit out of the network setup back into MK Deception.
Final Step
Select MK Online, then select your Network Setting and wait until you are connected to the server.
Once you are connected you will need to create an account, don't worry just type in random information and it'll work. It isn't a real, legitimate sign up. No monthly fee, email or telephone required. This service is free.
Congratulations, you are now back online on Mortal Kombat Deception