Sonic The Hedgehog (Archie) Comic Issues 101-150
Sonic the Hedgehog is an ongoing series of American comic books published by Archie Comics, featuring Sega's mascot video game character of the same name. The comic book series debuted in the United States as a 4 part mini-series published between November 1992 and February 1993. The ongoing series began in May 1993, and as of March 2012, there have been 235 issues. It has been recognized by Guinness World Records as the longest running comic series based on a video game
Premise
The main focus of the comic storyline is the title character and hero, Sonic the Hedgehog. Sonic is endowed with super speed and a love of freedom, which puts him at odds with the antagonist, Dr. Robotnik. Sonic is depicted as having important ties with his family and friends, and a deep sense of duty. He holds a personal grudge against the Doctor and understands his ability to protect the world from this menace.
Sonic is affiliated with the Freedom Fighters, a rebellion group that was formed to counter the tyranny of Dr. Ivo Robotnik, (later also referred to as "Eggman") and his legion of unquestioning, warlike robots. The basis of the original issues were designed to closely mirror the animated television series, as well as the names and likenesses of Sonic's allies in the Freedom Fighters. Since then, the series has integrated many elements from the video games, which has led to ongoing story arcs involving Shadow the Hedgehog and others.
Issues 101-150
In issue #125, Sonic battles an alien race known as the Xorda, leaves him stranded in space after saving Mobius from these aliens' secret weapon known as the Quantum Dial, a device that would create a black hole that would destroy Mobius. Back on Mobius, he is assumed to be dead. Sonic journeys through space discovers that Tails' parents are still alive on a far off planet. Sonic returns in issue #130 where he reveals to everyone that he is indeed alive and well.
Issues #131 through #144 introduce a sub storyline in which the future of Mobius is the plot. In this future, Sonic is king of Mobotropolis and married to Sally. Knuckles has attained the rank of Guardian and is partnered (not married) to Julie-Su. However, the timeline is in danger of collapsing into destruction. Sonic and Knuckles try with the help of Rotor to prevent this catastrophe, but fail and the time line and storyline come to an end.
Issue #145 features the return of Shadow, who then returns to take part of the storyline, frequently battling Sonic in issues #157 through #161.
This is issue 101-150 of Sonic the Hedgehog from Archie Comics.
All comics are in .CBR format.
I have included a copy of CDisplay (a comic book reader) to view these files.
When you open CDisplay for the first time (at least when i did) it was a full white screen. If this happens to you, push F10 and put a checkmark in window mode, then you will have it in a window instead of full screen. To load comics, simply push F10, Load then pick what mag you want to read. Or, you can drag and drop the file.
Link to issues 1-50
http://www.theisozone.com/downloads/pc/ ... sues-1-50/
Link to issues 51-100
http://www.theisozone.com/downloads/pc/ ... es-51-100/
Link to issues 151-200
http://www.theisozone.com/downloads/pc/ ... s-151-200/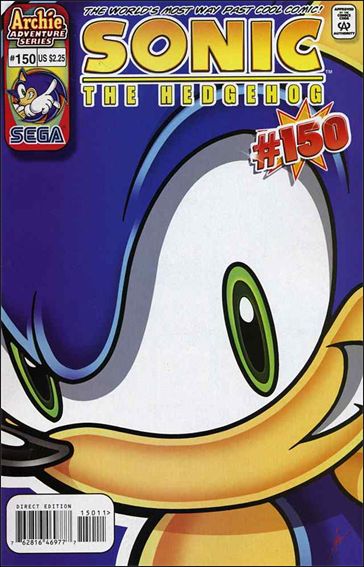 2
4,766
6 years ago